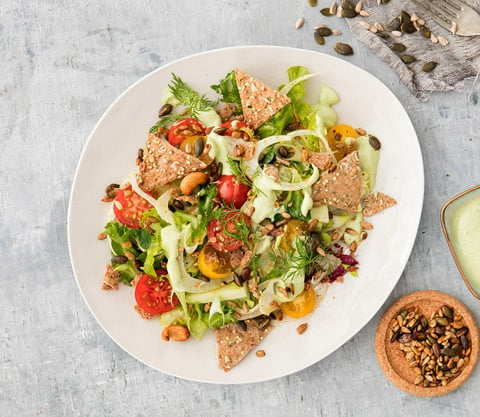 Green salad with roasted seeds
Servings: 4 portions
30 minutes
Try this salad as a healthy and crispy lunch. The seeds provide a nice extra crunch.
Ingredients
Salad:
1 pck FINN CRISP Snacks
1 pck of seedmix
1 tsp chili powder
½ tsp ground caraway
½ tsp black pepper
½ tsp salt
1 tsp oil
2 tbsp white wine vinegar
2 tbsp olive oil
½ tsp salt
½ tbsp sugar
½ fennel
½ cucumber
250 g plum tomatoes
2 spring onions
2 sweet gem salads
Dressing:
½ bundle dill
2 dl mayonnaise
1 tbsp lemon juice
½ tsp salt
This is how you do it
Pre-heat the oven to 170 °C.
Mix the seeds, chili powder, caraway, pepper, salt and oil in a bowl. Spread the seeds on a baking tray with baking paper and roast them for 12-15 minutes until they have a nice color.
Mix white vinegar, olive oil, salt and sugar. Thinly slice the fennel and slice the cucumber lengthwise.Put the cucumber and fennel in the vinegar mix and let it set for 10 minutes.
Prepare the dressing: Using a knife or mortar finely chop the dill. Mix it with mayonnaise, lemon juice and salt.
Split the plum tomatoes in halves and chop the spring onions into thin rings.
Mix the cucumber, fennel, plum tomatoes, spring onions and gem salad and spread over a plate. Pour Snacks, seeds and dill mayonnaise on top.
Dig in!