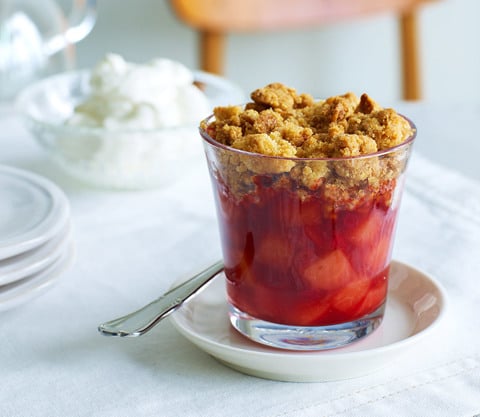 Baked apple and lingonberry with crispbread crumble
Servings: 4 portions
60 minutes
Fresh and fruity dessert with a crunchy crispbread top. Something to satisfy your sweet tooth.
Ingredients
Filling:
4 apples
1 ½ cup lingonberries
1 cup brown sugar
1 tsp potato flour
Crumble:
50 g of wheat flour
50 g butter
50 g sugar
20 g almonds
This is how you do it
Filling:
Peel apples and remove the core. Dice apples.
Mix together diced apples, lingonberries, brown sugar and potato flour.
Divide mixture in to portion casseroles and bake at 175 ºC for about 45 minutes or until apples are soft.
Crumble:
Dice cold butter.
Mix all ingredients together into a crumbly mixture.
Bake at 170 ºC until the color is golden brown.
Sprinkle crumb mixture on the top of warm apple-lingonberry bake.
Why not try it together with whipped cream as a sweet and fruity dessert?