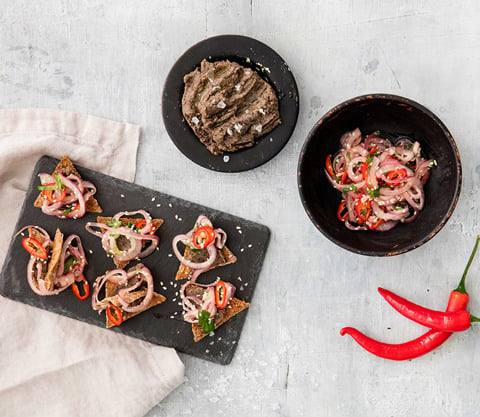 Homemade Black Bean dip with red onion & cilantro salad
Servings: 4 portions
30 minutes
Versatile dip and salad that works great together but can also be enjoyed separately.
Ingredients
Black bean dip:
1 bag of FINN CRISP Snacks
1/2 dl rapeseed oil
1 tsp sesame oil
2 cloves of garlic
2cm grated ginger
½ tsp chili flakes or chili powder
1 dl black beans (pre-boiled)
3 tbsp rice wine or white wine
3 dl chicken broth
2 tbsp soy sauce
1 tsp cane sugar
1 tsp salt
Red onion and cilantro salad:
1 red onion
½ pot of cilantro
½ red chili pepper
1 tbsp sesame seeds
2 tbsp fish sauce
2 tbsp lime juice
This is how you do it
Black bean dip:
Chop the garlic and grate the ginger.
Heat the oils in a saucepan and add the garlic, ginger and chili. Fry for ten seconds then add the pre-boiled black beans.
Fry for 30 seconds and add the wine. Let it boil until all the wine has evaporated.
Add the broth and the soy sauce. Let it sit for 15 minutes on low heat until the fluids have been absorbed by the beans.
Season with salt and sugar.
Put the content of the saucepan in a food processor and blend for 3 minutes on full effect.
Serve the dip with FINN CRISP Snacks.
Red onion and cilantro salad:
Finely chop the red onion and chili pepper. Mix the red onion, cilantro, chili pepper and sesame seeds.
Add the fish sauce and lime juice. Mix gently.
Spread FINN CRISP Snacks on a serving plate. Put some black bean dip on them and top it off with the red onion and cilantro salad.