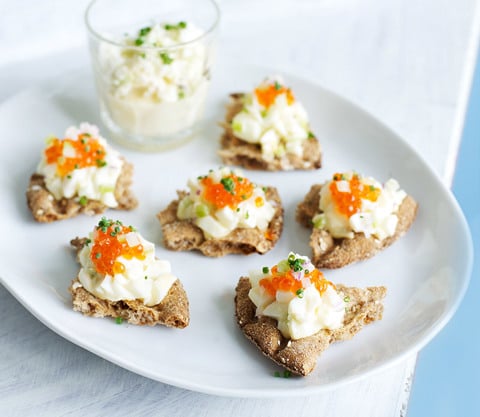 Egg salad with roe garnish
Servings: 20 pieces
20 minutes
Simple spread perfect for a Winter evening snack in front of the fireplace.
Ingredients
5 slices FINN CRISP Multigrain round
5 eggs
2 tbsp diced celery
1 tbsp red onion, diced
2 tbsp olive oil
1 tbsp chopped chives
1 tsp white wine vinegar
100g creme fraiche
Salt
White pepper
100g salmon or trout roe
This is how you do it
Break FINN CRISP round crispbreads into four pieces.
Boil eggs and remove shells.
Put eggs into a bowl and stir using a fork. Add celery, red onion, olive oil, chives and white wine vinegar.
Stir in crème fraiche and season with salt and pepper.
Topp each crisp bread with a spoon of egg salad and garnish with roe.