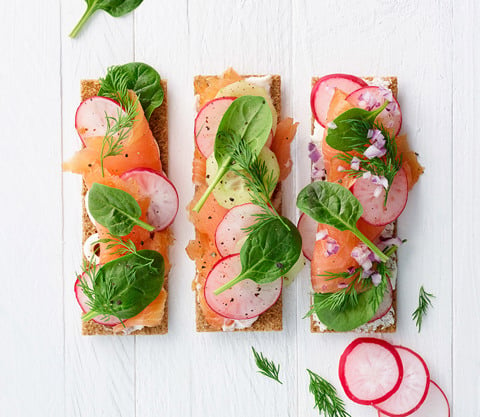 Salmon Sandwich
Servings: 4 portions
10 minutes
Delicious Summer breakfast treat that works just as well on the smorgasbord.
Ingredients
4 Slices FINN CRISP Original
100g Smoked Salmon
100g Cream cheese or Mayonnaise
1 Radish
20g Spinach
1 tbsp Dill
½ Red Onion
This is how you do it
Spread cream cheese or mayonnaise on FINN CRISP.
Add smoked salmon, either rolled or cut into small pieces, to your preference.
Top it off with sliced radish, chopped dill and red onion and some leaves of spinach.
Enjoy your sandwich filled with Nordic flavours!