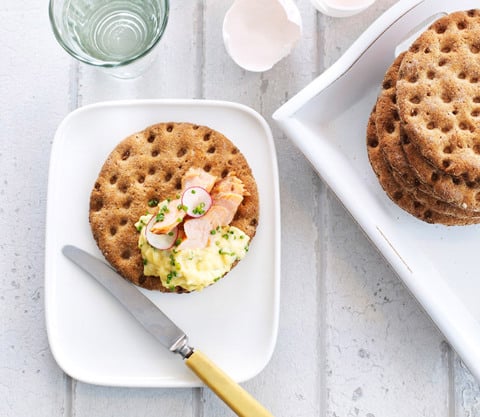 Scrambled eggs with smoked salmon
Servings: 4 portions
20 minutes
Treat yourself to a breakfast deluxe with the perfect combination of crispbread, scrambled eggs and salmon.
Ingredients
4 slices FINN CRISP Original Rye Rounds
4 eggs
8 tbsp whipped cream
½ tbsp butter
2 tbsp finely chopped chives
Salt, white pepper
200 g hot smoked salmon
4 slices of tomato
This is how you do it
Break eggs into a bowl. Add cream, a pinch of salt and pepper and whisk to combine.
Melt a pat of butter in a pan, add egg mixture.
Cook over low heat. Stir with a wooden spoon, lifting and folding it over from the bottom of the pan.The scrambled eggs are ready when the mixture is solid, crumbly but moist.
Stir in chives.
Serve with FINN CRISP crispbread and hot smoked salmon and tomato.